La Grange, Kentucky

La Grange, the seat of Oldham county, is located in the eastern part of the county. It was founded in 1827 at the crossing of the Shelbyville - Westport road and the Louisville - New Castle road and named for the home of General Lafayette. La Grange was established to be the county seat, which had been located at Westport. It was moved to La Grange in 1827, back to Westport in 1828, and back to La Grange again in 1838.
La Grange was incorporated in 1840.
The La Grange post office opened in 1828.
The population in 2010 was 8,082.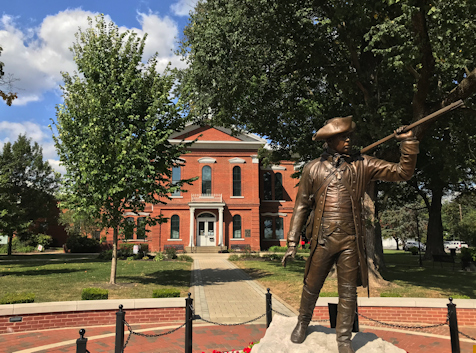 The Oldham County Courthouse in La Grange was built in 1875 to replace the circa 1828 courthouse which had burned. The bronze of William Oldham was installed in 2018.
MORE INFORMATION
---
SEARCH THE KENTUCKY ATLAS & GAZETTEER
---
© 2023 David C. Elbon