Morgantown, Kentucky

Morgantown, the seat of Butler county, is near the center of the county on the Green River. It was established in 1811 by Christopher Funkhouser and may have first been known as Funkhouser Hill or Morgan Town. The source of the second name is obscure.
Morgantown was incorporated in 1813.
The Butler Court House or Morgantown post office opened in 1813.
The population in 2010 was 2,394.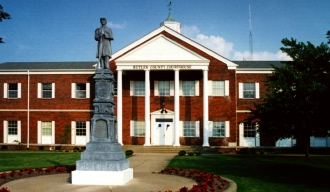 The Butler County Courthouse in Morgantown.
MORE INFORMATION
---
SEARCH THE KENTUCKY ATLAS & GAZETTEER
---
© 2023 David C. Elbon