Paducah, Kentucky

Paducah, the seat of McCracken county, is on the Ohio River below the mouth of the Tennessee River. The site was chosen by George Rogers Clark during the Revolution and the first settlers probably arrived around 1821. The early settlement was known as Pekin. In 1827 the town was laid out by Clark's brother William who selected the name Paducah to honor the legendary Chickasaw leader, Chief Paduke (or it may be the name of a group of Comanches known as the Padoucas). Paducah became the county seat in 1832 when it was moved from Wilmington.
Paducah was incorporated in 1838.
The Paducah post office opened in 1828.
The population in 2010 was 25,024.

The McCracken County Courthouse in Paducah.
Paducah is the home of West Kentucky Community and Technical College (formerly Paducah Community College and founded in 1932 as Paducah Junior College).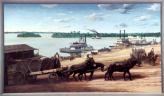 Murals by Robert Dafford on the floodwall along the Ohio River depict historical scenes of life in Paducah.
MORE INFORMATION
---
SEARCH THE KENTUCKY ATLAS & GAZETTEER
---
© 2023 David C. Elbon