Bardstown, Kentucky

Bardstown, the seat of Nelson county, is located in an area near the center of the county that was granted to David Bard by the governor of Virginia. Settlement began in the 1770s and the original town was named Salem. In 1780 William Bard, David's brother, laid out Bard's Town on the site. It became the county seat when Nelson county, Virginia was formed in 1784. The town was known also as Bairdstown, Beardstown, and Beards Town.
Baird's Town was chartered in 1788. Bardstown was incorporated in 1838.
The Bairdstown post office opened in 1794 and was renamed Bardstown in the 1820s.
The population in 2020 was 13,527.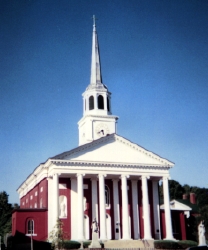 The old Nelson county courthouse and St. Joseph Proto-Cathedral
Bardstown is the home of Saint Joseph Proto-Cathedral, the first Roman Catholic cathedral west of the Allegheny Mountains (construction began in 1816). It is also the site of My Old Kentucky Home State Park, with connections to the famous state song.
Long a center of bourbon production, Bardstown is home to the Kentucky Bourbon Festival each September, the Oscar Getz Museum of Whiskey History at Spalding Hall, and several distilleries.
Bardstown was the third largest town in Kentucky in 1790, with a population of 216, after Lexington and Washington.
MORE INFORMATION
---
SEARCH THE KENTUCKY ATLAS & GAZETTEER
---
© 2023 David C. Elbon