Carrollton, Kentucky

Carrollton, the seat of Carroll county, is located on the Ohio River at the mouth of the Kentucky River. The area was settled in the late eighteenth century and the town was established in 1794 as Port William, possibly named for William Porter, an early settler. Port William was the seat of Gallatin county (formed in 1798) until 1838 when Carroll county was formed. Port William was made the seat of the new county and renamed Carrollton. Carrollton was incorporated in 1838. The Port William post office opened in 1807 and was renamed Carrollton in 1838. The population in 2010 was 3,938.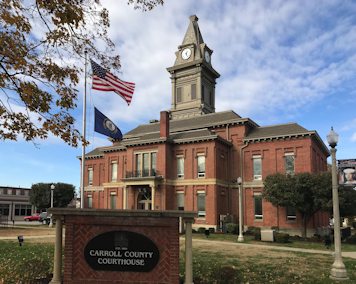 The Carroll County Courthouse in Carrollton. This is the second courthouse, completed in 1884.
The Kentucky River Lock and Dam 1 at Carrollton was completed in 1842. The upstream lock 2 is at Lockport. Lock and Dam 1 is maintained by the Kentucky River Authority. There are 14 locks and dams on the Kentucky. Only the locks 1 through 4 are still operating.
MORE INFORMATION
---
SEARCH THE KENTUCKY ATLAS & GAZETTEER
---
© 2023 David C. Elbon