Lancaster, Kentucky

Lancaster, the seat of Garrard county, was founded in 1797 at the crossing of two pioneer roads and was initially known as Wallace's Crossroads for a local land owner. When the town was laid out it was named for Lancaster, Pennsylvania.
Lancaster was incorporated in 1837. The Lancaster Court House post office opened in 1801 and was renamed
Lancaster about 1811.
The population in 2010 was 3,442.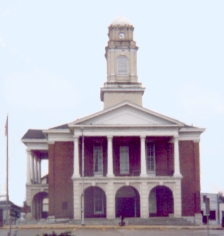 The Garrard county courthouse in Lancaster.
MORE INFORMATION
---
SEARCH THE KENTUCKY ATLAS & GAZETTEER
---
© 2023 David C. Elbon