Midway, Kentucky

Midway is a Woodford county city about eight miles north of Versailles. Midway was established by the Lexington and Ohio Railroad, midway on its line between Frankfort and Lexington, in 1831. The site was also known as Middleway.
Midway was incorporated in 1846.
A post office operated near the present town from 1832 to 1834 as Stevenson's, for the owner of the store that housed it, then moved near the station and was renamed Midway in 1837.
The population in 2020 was 1,682.
Midway is the home of Midway University, founded in 1847.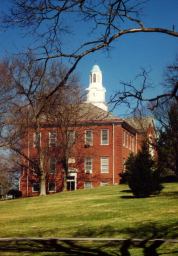 Midway City Hall and Midway University
MORE INFORMATION
---
SEARCH THE KENTUCKY ATLAS & GAZETTEER
---
© 2023 David C. Elbon