Owingsville, Kentucky

Owingsville, the seat of Bath county, is located near the middle of the county near Slate Creek. It was established in 1811 and named for Thomas Dye Owings, manager of the nearby Slate Creek Iron Furnace, who donated part of the land for the town.
Owingsville was incorporated in 1829.
The post office opened in 1814 as Bath Court House or Owingsville.
The population in 2020 was 1,592.
Owingsville was the home of A. D. Ruff, nineteenth century cyclist and inventor, and he is buried in the Owingsville Cemetery.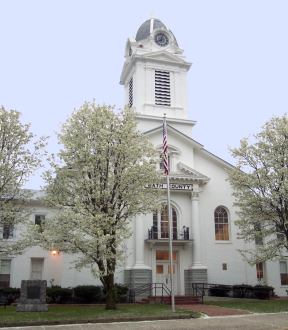 The Bath County Courthouse in Owingsville.
MORE INFORMATION
---
SEARCH THE KENTUCKY ATLAS & GAZETTEER
---
© 2023 David C. Elbon